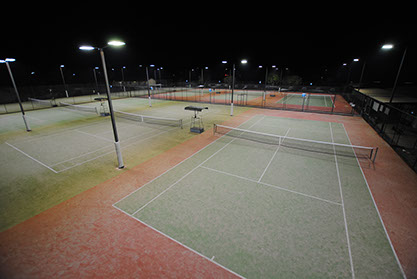 Hervey Bay Tennis Club were seeking a solution to improve their lighting on 8 tennis courts due to extremely poor lighting over the net area.
The overall average levels to the playing area were below AS2560 competition standard, however the more significant problem was the extremely poor uniformity, due to low levels over the net area...more information
Strathmore Tennis Club had a lighting performance below 200 lux and could no longer be used for district competition night tennis.
ELA designed a system based on the latest LED technology, that was within budget, and within weight restrictions of the poles the club had already purchased...more information
Templeton Tennis Club had a configuration of poles and floodlights that produced lighting that was below standards with low levels and poor uniformity.
The club's goal was to upgrade to LED, eliminate the dark area in the centre and improve overall light levels...case study coming soon
Eaglemont Tennis Club is a growing club. It required lighting to be installed on four extra courts. ELA designed, manufactured and installed a turn key solution with outstanding results...case study coming soon
ENVIRONMENTAL LIGHTING AUSTRALIA PTY LTD
HEAD OFFICE & PRODUCTION:
13-15 Harvey Drive, Cowes VIC 3922
M: PO Box 8154, Croydon VIC 3136
CONTACT:
enquiries@tennislights.com
P: (03) 5952 5587
ABN: 15 179 774 829
ACN: 144 694 566
ENVIRONMENTAL LIGHTING AUSTRALIA PTY LTD